ACTION FIGURE
Luke Skywalker
Product Info
Manufacturer
Kenner
Scale
3¾ inches
MN
38180
Character (1)
Skywalker, Luke
Collection 1
Star Wars
Collection
Star Wars
Year
1977
Wave
1
Price
$1.49
UPC
None
Collection 2
The Empire Strikes Back



Blonde Hair





Brown Hair

Collection
The Empire Strikes Back
Year
1980
Wave
Repack
Price
$2.49
UPC
76281 38180
Collection 3
Return of the Jedi
Collection
Return of the Jedi
Year
1983
Wave
Repack
Price
$2.99
UPC
76281 38180
Collection 4
Power of the Force
Collection
Power of the Force
Year
1985
Wave
Repack
Price
$2.99
UPC
76281 38180
Miscellaneous
Accessories

Lightsaber

Luke Skywalker was a figure released in 1977, part of the Star Wars collection.
Description
Luke Skywalker was released in 1977 for the debut of Star Wars.
He came with a yellow lightsaber. In the Early Bird Set, he came with a double telescoping lightsaber. This extremely rare variant is highly sought after by collectors.
This figure was included in the Early Bird Set, but made it's first carded appearance on the Star Wars 12-back card.
During the early Return of the Jedi releases, the image on this figure's card was replaced with a new image. Though known examples indicate that the switch took place during the 77A production run, it is possible that earlier examples could exist. The original photo made its last appearance on the Return of the Jedi 65C back. Note that the distinction of 65D and 65E cards is the Anakin figure offer stickers, the 65C was the last printed 65-back variation. The new image was used on all other cards after.
Major Variation(s)
The Luke Skywalker figure has more variations than most other figures in the vintage lines. The major variations are the spray ops on the figure's head. This figure is commonly available with yellow hair, but also shipped with dark brown hair (primarily in North America) and light brown hair (primarily in Europe).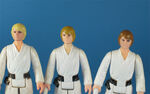 There are two versions of his Lightsaber: The first version (primarily packed into the Early Bird set and scarcely on the Star Wars 12-back card) was made of two pieces and featured a double telescoping action. When weighing out playability versus cost efficiency, the double telescoping version was replaced by the much more common single telescoping Lightsaber.
Although there are currently only two documented specimens, this figure was also produced with reddish blonde hair. To date, not much is known about its availability.
Community content is available under
CC-BY-SA
unless otherwise noted.