UPDATE: The submission phase is over. GO VOTE in ROUND ONE!

For many Star Wars fans, the movies and TV shows are just the beginning; it's also all about the collectibles and -- of course -- THE TOYS! Fans from the '70s and '80s have huge nostalgia for the old Kenner line of action figures and vehicle sets, while enthusiasts from the newer films and shows have their own cherished Hasbro favorites.
To celebrate the upcoming release of the new Star Wars: The Force Awakens toy and merchandise line on Force Friday - Sept. 4, we'd like fans to nominate their favorite Star Wars toys of all time to compete in our "Star Wars Toy Battle" bracket tournament.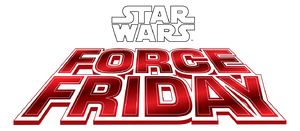 Submit your favorite toys of all time in the comments below. Be as specific as possible, so we know which exact model of action figure, etc. should be entered into the competition. On Aug. 21, we'll put the 32 most-nominated entries into a bracket for voting!
How it works:

CHOOSE: Choose a toy or collectible from either the Kenner or Hasbro Star Wars toy lines. You can choose multiple toys.
NOMINATE: Nominate as many toys as you like in the comments below. Please be specific about the toys you enter.
SHARE: Share the bracket using the buttons below!
BONUS - SPREAD THE WORD AND WIN!

To make the competition more interesting, we're giving away five mystery toys, provided by Hasbro from their Force Friday lineup! Plus we have THREE sets of both the Star Wars Rebels: Complete Season One Blu-ray/DVD and the Lego® Star Wars: The New Yoda Chronicles. Want to win one of these awesome prizes?
Share this bracket on Twitter (use the handy buttons below to make it easier) using the hashtag #SWToyBattle, and you'll be automatically entered to win!
Please note: Only U.S. and Canadian residents are eligible to win.
We'll randomly select the winners from all eligible entries on Sept. 25.
Good luck to your entries, and may the force be with the competitors!